What You Need to Know
Sandia's onboarding journey is intended to inspire excellence and instill Sandia culture and diversity in new employees through an enriched orientation and onboarding experience that provides a solid foundation and key focus on their future career while aligning with the Lab's mission and strategic direction.
Our mission is to unleash the power of employees by developing a seamless onboarding transition that begins prior to hire through the first year of employment, providing a positive and welcoming first impression, framework for future success, and an opportunity to build lasting, impactful relationships with a diverse and inclusive workforce.
Onboarding Phases
The onboarding journey at Sandia has five phases providing a consistent framework and experience for all employees across sites. Identified onboarding actions will help ensure new hires are best prepared to start contributing upon start through their first year of employment. Opportunities to create and support inclusion and diversity engagements are also integrated into the overall experience.
View the information below to learn more about each of the phases and what a new employee will experience from the time an offer is accepted through the first year of employment.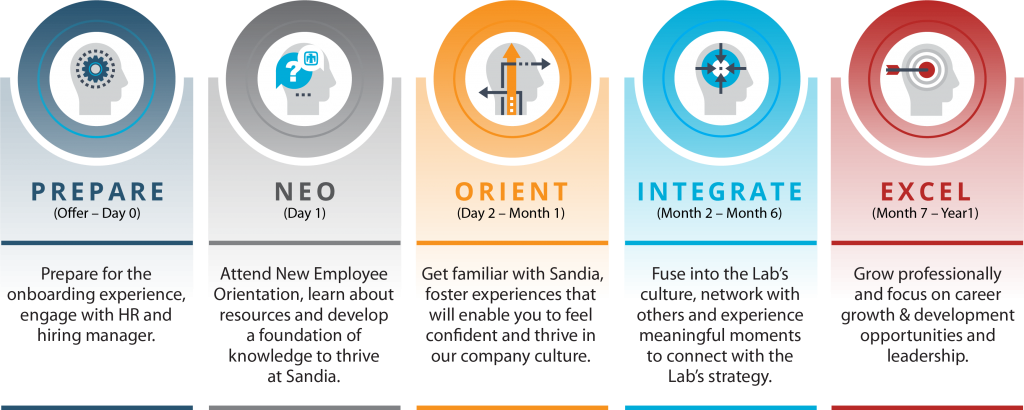 Onboarding Framework
World-class onboarding involves effectively executing to a consistent framework. Ensuring defined roles, responsibilities, and a collaborative approach across Labs-level and divisional onboarding programs is essential. Sandia's established Division Framework and resources by onboarding phase helps to drive a consistent new hire experience. Framework governance supports a customized integration of culture, networking, career support, strategy immersion & direction, as well as job skills and training. The offered resources compliment program elements and are available to stakeholders to deliver a world-class onboarding experience.
WOW Moments
Creating meaningful "WOW" moments during the first year at Sandia helps ensure a successful onboarding experience. Examples include the excitement during an offer phone call, beginning new employment, viewing the prepared desk space, engagements with the team, as well as celebrating when a security clearance is granted or achieving the first year of employment. These engagements are key to long term employee retention. Embrace opportunities for meaningful moments that will help complement a new employee's onboarding journey.
Onboarding Toolkits
Preparing for a new employee to start is a very important part of the onboarding journey. It is essential to make the necessary arrangements and complete appropriate system actions to ensure an exceptional onboarding experience. This helps the employee adapt to the work environment quickly and ensures they are prepared to start learning and contributing to their organization. Managers and Office Administrative Professionals utilize onboarding toolkits to prepare for new employee onboarding.
Buddy Program and Training
A new employee's buddy has a key role in the onboarding process. Managers assign an onboarding buddy to partner with the new employee during their first three months of being a Sandian. The selected buddy provides a single point-of-contact for basic questions and broadens the knowledge presented at New Employee Orientation. A buddy supports the onboarding process by providing encouragement, knowledge and resources, as the new employee integrates into the Sandia culture, social, and professional work environment.
Learn more about the Buddy Program and review toolkits that will help you prepare to select or become a new buddy.
Events and Activities
The onboarding journey includes inviting and encouraging new employees to participate in corporate onboarding events, division presentations and tours, and new employee information fairs. These events and activities will provide networking and engagement opportunities in addition to helping new employees connect with available resources.
You may learn more about upcoming events on the New Employee Hub and the HR Events Calendar.
Contacts and Resources
The New Employee Hub website is your one-stop as a new employee to access important onboarding information and interact with other new hires. Log-in with your Sandia credentials is required.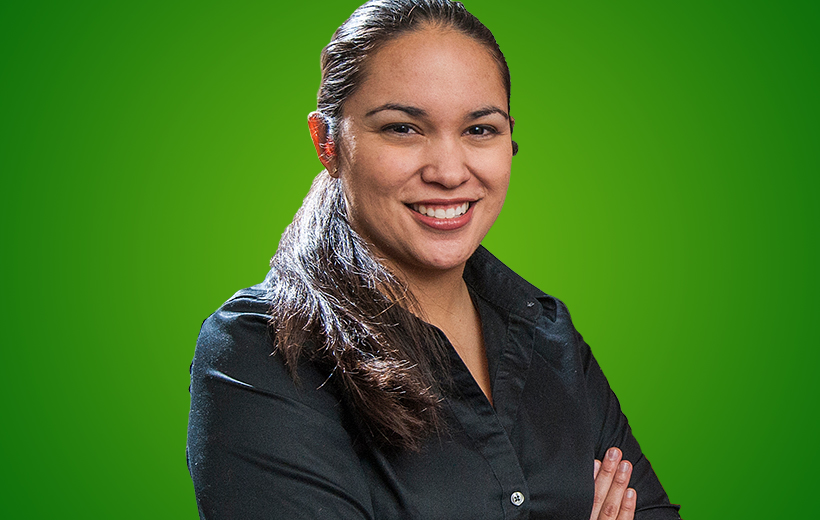 Here for your "Eureka!" moment
Sandia's schools, available through TEDS, can help get you from here to next.
Learn More
Anchor point for link block
Quick Tip
Building relationships with new employees is integral to the onboarding experience. We seek to prepare new employees to solve the nation's greatest challenges on day one through fundamental curriculum and positive engagements to build relationships and create an environment for long-term retention.